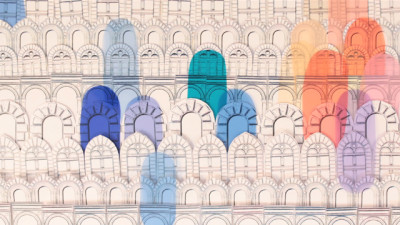 Propeller
PROPELLER is redefining animation and expanding its scope.
Propeller project is a large-scale kinetic curtain for the north facade of the Royal College of Art campus in South Kensington. The 52 meters long and 4 meters high installation responds to the natural elements and explores the principles of animation such as its affective influence on the viewers' emotions through movement, colour and layered meanings.
PROPELLER ist ein großer kinetischer Vorhang für die Nordfassade des Royal College of Arts in Süd Kensington, London. Die 52 Meter lange und 4 Meter hohe Installation reagiert auf die natürlichen Elemente und untersucht das Prinzip der Animation auf die Gefühle des Betrachter durch Bewegung, Farbe und Mehrdeutigkeit.